There are 4,000 plus companies that provide digital marketing technology according to LumaScape. There are over 40 technologies in mobile Analytics/Measurement/Attribution/Reporting category alone (full mobile LumaScape here). In our build-up to the launch of the Tomorrow iOS mobile app in July of 2017, we knew that we needed a great mobile marketing technology stack in order to drive:
Customer Acquisition – Tracking media spend through the channels, through the stores (iOS and Android) and into the apps. Not just to an install but a registration.
Customer Success – via mobile push notifications, in-app messaging, triggered emails and personalized website messaging.
Behavioral Analytics – user behavior, funnel analysis, success and challenges of the app, customer centric insight
Marketing Attribution – which channels, creative, messaging and offers are bringing in the right/best members
Testing & Optimization – both in-app and on website including the products on the roadmap like Web App and Android App
Over the span of four months we looked at dozens of technologies and platforms with the objective of picking the right combination to get us into the launch and learn stage of the company with the following objectives:
Scale – will the platform serve multiple purposes and be around for the long-term. Is this a product that we can grow into and will grow with us as.
Value– based on functional requirements, does the technology provide the needed features at the right price AND the right pricing structure. The. pricing structure is as important as the price itself as a new company just launching, a model that would scale with us made the most sense. More on this later.
Minimize impact on engineering team– we wanted to have as much control over messaging and communications in the hands of the growth team vs having to go to the engineering team for executional tasks.
Interoperability– how well does the technology work with OTHER technologies. In the age of the API economy, our belief is that having best in class point solutions is superior to a difficult to use and more expensive all-in-one platform.
Here is a simple schema of the platforms we selected to give you an idea of the complexity of the systems: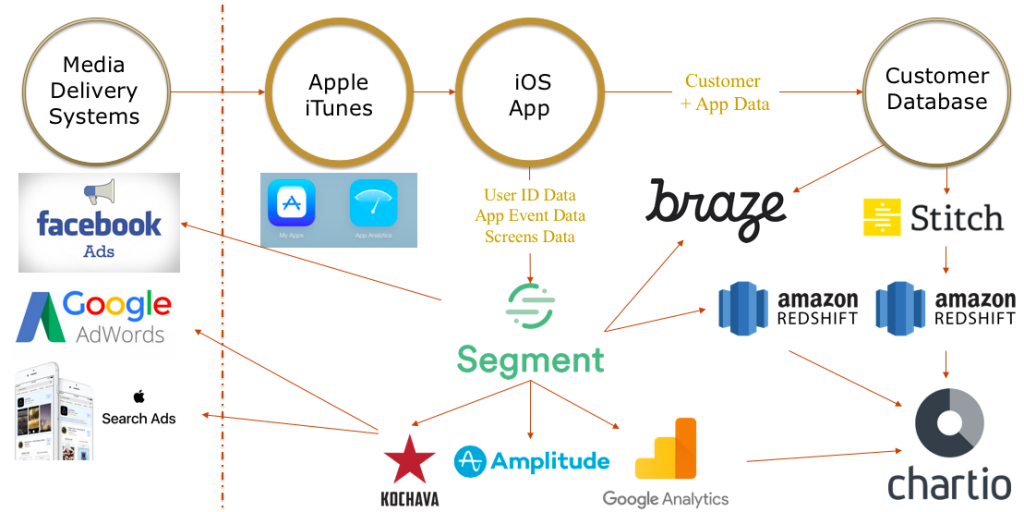 We launched the iOS mobile app in July of 2017 and have learned a ton about what we like and don't like. Here are some of the lessons we learned during the research process and then implementation/execution stage vs a product by product comparison – there are lots or review sites for that.
What we did right
Defined what types of data we wanted to capture and what decisions we were going to make based on the data.
Thought hard about the value and purpose of each category of the tech stack we were adding: attribution, BI/Reporting, customer communications, analytics and ETL.
Researched and demo'd a range of solutions for each category. We sourced our short list of tech vendors from professional connections, team's prior usage (especially including the engineering team's experience), online comparison sites (like G2Crowd.com and Captera.com)
What we could have done better
Be realistic about your potential traffic and needs with regards to complexity of customer communications.We selected Braze (formerly Appboy) as our customer communication platform. It is a very robust platform that is the most expensive part of our stack, but we still don't use it to the fullest. This is due to our need to manage many of our communications internally so we haven't "turned over" all emails, push notification and in-app notifications to Braze. This is also due to launching a new product and not understanding how to best communicate with our customers to make them successful – much of this only comes from experience, but the product does a pretty good job of leading someone through creating a will that our communications are lighter than predicted (which is good).
Select an event naming structure that is informative at the top level, but gives you the ability to dig deeper with event attributes.Since we run both marketing programs and customer analytics programs off of event logging, the naming framework you create has a massive impact on your ability to connect media spend with specific user behavior as well as analyze user behavior through platforms like Amplitude.
Allocate more time UP FRONT for analytics.In the time constraint world of launching a mobile app with a hard deadline decisions had to be made. One of those was to post-pone allocation of time to address event naming and analytics. This has caused challenges downstream in terms of engineering time for refactoring and gaps in behavior knowledge that could have helped us advance the product further, faster.
Mobile analytics is a unique animal that requires solutions and thinking that is different than traditional web analytics. New platforms like Segment, Amplitude and Google Firebase give mobile app data analysts and marketers tremendous insight into how media programs perform at a deep level and how users are successful or get stuck.
Let me know your thoughts!