I just watched a fantastic TED video by Simon Sinek who discusses the impact of belief on the success of organization and leaderships role – watch the video on Youtube Here.  In the video he discusses the three major questions of the "Golden Circle" and how thinking about these set of questions in a different order will help you think about what you believe.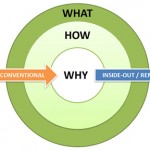 What – What You Do. The features, products, services you produce.
How – How You Do It. The processes you go through, the things that differentiate you and your products.
Why – Why You Do What You Do. Why do you get up every morning? Why will people care? Are  you working for money or working for a purpose. This is the core question you need to answer and build an organization/business on.
Simon talks quite a bit about the intrinsic buying response is to do business with people who believe the same things you do.
A quote he repeats quite often is
"People don't buy what you do, they buy why you do it" – Simon Sinek
The primary example he uses is Apple and their ability to innovate more rapidly in a more compelling way every year than it's competitors. They are just a computer/device/phone manufacturer right?
Watch the video. Here it is again. And apply to your business and/or life work.