I recently posted this on the Optify blog here. I modified the P.O.E.M. model to be a resource for digital marketing agencies to help explain digital to their clients so take a look and let me know what you think!
There are a LOT of strategies and tactics for using digital marketing to acquire, nurture and retain customers online.  We find it effective to explain the various digital marketing activity to clients using the P.O.E.M . media model which gives us a framework for discussing the costs and benefits of the various strategies. Nokia was an early developer of this model and used for digital media planning. We have evolved it for digital marketing agencies and the types of services you can offer.
This blog post is geared towards explaining an extended version of the P.O.E.M. model so that you have a method for discussing the channels and where they fit into the overall digital marketing programs.
First, some definitions and a helpful table:
P – Paid Media Programs – aka: outbound marketing
O – Owned Media Programs – aka: nurture and retention marketing
E – Earned Media – aka: Inbound Marketing
M – Managed Media – new segment for digital marketing agencies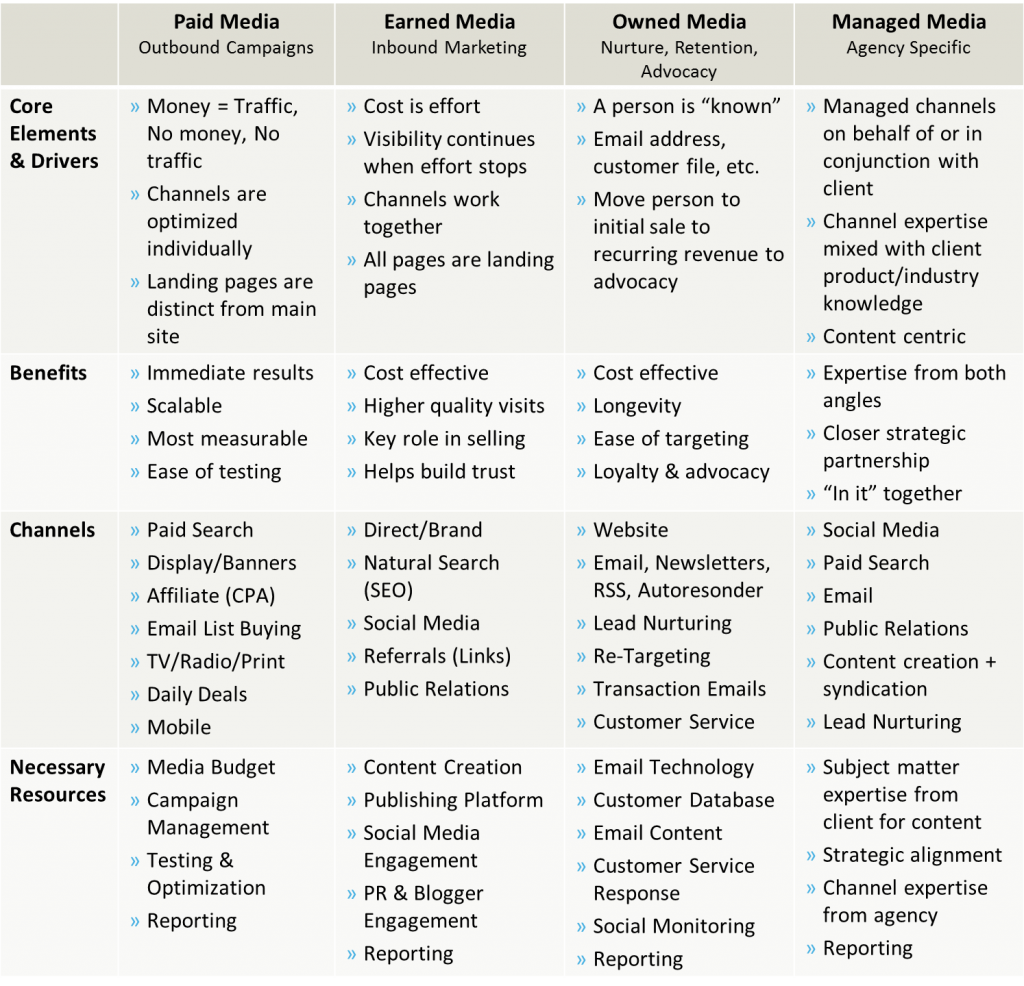 Here are some tips and ideas to use for engaging customers in the different types of media.
Paid Media – AKA Outbound Marketing
Paid media is a great way to enhance and amplify current acquisition  programs. Paid media should not, however, be the main acquisition program for you or your clients unless you are well versed in the paid media channels and have a VERY strong grasp of ROI. Paid media like Google AdWords, affiliate programs, web banners, sponsorships, etc. become more difficult when the distance between the paid placement and the revenue generating activity gets further apart based on time or steps.
Here are five tactics to consider providing for your clients within paid media
Reporting and ROI tracking services. Reporting can be enlightening for the client and is critical if you are going to be spending media dollars on their behalf. Setting up marketing campaign tracking, having a consistent reporting system and regular review with the client is the first step in paid media success.
Google AdWords –  Paid Search. This is the default beginning media spend for many businesses. It can be effective if you have the entire package of campaign set-up, creative management, landing pages and conversion and reporting.
Niche newsletter and site sponsorships. Spending media dollars against an audience that you have  identified by location, content interests, hobby, etc. can get you in front of that interested audience in a targeted way.
Paid product feeds in product comparison sites such as Amazon, Google Product, ShopZilla and NextTag can be a great way to get your products in front of people search specifically for it.
Contextual display campaigns in Google. Putting advertising in front of people who are engaging in content related to the keywords or audience you are targeting is easiest to do through the Google AdSense program.
Expertise in each one of the paid tactics is required in order to be effective. Before promoting these tactics to your clients, make sure you have done your research, have experience or can partner with someone like a vendor for success.
Owned Media – AKA Nurture, Retention and Advocacy
We have all heard that is it less expensive to keep and grow your customer base than it is to acquire new customers. This is particularly true for small companies with limited resources. As a digital marketing agency, if you can help your clients do a better job communicating to their current customers and known prospects, you will be able to show success in a relatively short period of time.
Here are six tactics to explore and sell related to owned media:
1)      Website development. Everyone needs help with their website, no one is 100% happy with their site and as a digital  marketing expert, you can bring a customer acquisition/retention perspective to the website development process even if you or your agency don't do the work itself. Creative shops are great at doing creative sites, but tend to be weaker on the SEO elements or conversion and nurture elements.
2)      Website conversion. Look at the clients site from the point of view of a prospect and try to understand the following:
What is the value proposition?
Why would I want to buy a product or service from this company vs a competitor?
What is the primary call to action? What is the one thing you want the prospect to do on the homepage? How obvious is it?
How can someone who is a prospect or customer continue the relationship with the business? Social media? Newsletter? Blog post/RSS feed?
3)      Customer newsletter. I'm constantly amazed at how many companies don't have a regular newsletter for their customers. This is a huge lost opportunity to alert them of new products/services, promote educational content, deliver offers, highlight other resources and keep your brand in front of them.
4)      Nurture email program. This tactic is particularly important for B2B clients who don't have an immediate sale on their site. Setting up an autoresponder when someone signs up for some educational material and drip campaigns that deliver multiple emails over a span of time that will help the end user understand the value and see the client as an expert are excellent services for you to offer.
5)      Customer advocacy program. Just having the conversation with a client about how to get their customers to advocate for them opens a whole series of potential strategies and tactics including referral programs, thank you offers in Facebook or Twitter for those that are following you or your business or other simple thank you programs.
6)      Merchandising, cross-selling and up-selling programs. Again, this is a strategic conversation with the client on ways to increase the average order size or leverage a purchase to cross-sell additional products or services. The strategic conversation leads to test programs, specific tactics and  a deeper relationship.
The big benefit of focusing in on owned media is that you have the ability to contact people directly who are already aware of and, hopefully, a fan of the business. Moving those customer to repeat visit/purchase and become advocates is a critical need for every business.
Earned Media – AKA Inbound Marketing
Earned media is a perfect complement for owned media as earned media supports both nurture/retention tactics as well as acquisition activities. At the core of earned media is showing the world that you are an expert in a particular topic and/or field. This is accomplished through the creation and curation of high quality content that shows your customer knows their stuff. This content is then used to build the website, generate conversions, create organic search visibility, provide interesting posts for social media and give people a good reason to link back to your site.
I mention curation as well as creation because one of the biggest challenges with earned media is creating compelling content. In reality, there is a lot of great content on the internet and many sites do a great job with acquisition by putting their own spin and perspective on studies, reviews and presentations by other people. The trick is to make it  original, show that you understand the subject and have an opinion that gives your client authority.
Here are five tactics to consider helping your clients with for earned media
1)      Content creation and curation. This is the #1 challenge of most businesses who have taken on earned media. You don't have to be an expert in their field, but you need to be able to find people who can write and other sites that have good content for review and commenting.
2)      Search Engine Optimization. There are lots of guides for this, but all websites need to have an SEO strategy and be optimized as much as possible for this high quality traffic.
3)      Social Media profile management and content syndication. Social media is changing at a rapid rate so updating profile pages, responding to comments, using these channels to promote content you have created can result in a bigger audience and activity.
4)      Public relations and influencer marketing. Finding the people who are already authorities in your clients space and strategically engaging them can lead to a faster boost of your clients authority, more links and more visibility.
5)      Link building. While traditional link building is on the wane, helping your client identify content that would be compelling and helping them to syndicate the content can generate website referral traffic and hopefully links that will support the search engine optimization program.
Earned media is not a one and done type program, you and your client need to be committed to this for a minimum six months. This includes optimizing the site, creating content, measuring traffic and sales performance monthly (not daily or weekly) and being clear about the time frame required to be successful. Once you start to see the benefits of this program, it can be a long-term relationship with the client.
Managed Media
Managed media is specific to agencies that will manage specific channels on behalf of their clients. Often times, an agency will partner with client on specific channels because they have the channel expertise – website development, paid search, email, social – but not the industry or subject matter expertise required to be believable and effective.
Instead of giving you specific tasks, here are two questions to ask to determine if shifting to a managed media model is appropriate:
1)      Does your agency have the channel specific skills to execute a campaign in either the B2B or B2C client channel. The skills necessary for B2B and B2C are different with unique sales cycles, offer types and audience communications. If you are growing into a channel,  make sure you have the time to invest in educating yourself and have enough testing budget (time or money) to learn and work your way into success.
2)      Does your agency have the subject matter expertise to completely take over a channel for a client? In some cases, you may have great expertise from personal experience, a hire you've made or work you've done with others in the industry. If you can help the client with the content, channel management and reporting without relying on them to provide materials – you don't need the managed model
Summary
I hope this post has been helpful in giving you some tools to use in order to talk to current and prospective clients about digital marketing programs and how you can help. The expertise you can bring to any of these tactics on behalf of your clients depending on their needs should help move you from a vendor to a trusted partner. As always, we look forward to your comments and questions!
More P.O.E.M. Resources
http://blogs.forrester.com/interactive_marketing/2009/12/defining-earned-owned-and-paid-media.html
http://searchengineland.com/buyers-guides/digital-advertising-agencies-2013-a-buyers-guide