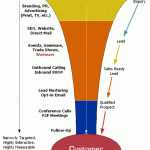 Lead nurturing is a concept that is gaining interest as companies continue to look for efficiencies in their marketing and sales operations. Lead nurturing is part of the larger process of marketing automation, but focuses specifically on stage between initial contact with a prospect and the closed won state of the deal.
Lead nurturing is more of a business to business tactic (B2B) vs a business to consumer (B2C) tactic. This is because B2C is mostly focused on transactional interactions with website visitors (get the sale, generate more page views for ads, get them to return for more content & up-sells, etc.) than using a website to build a relationship for larger, more in-depth relationships (aka – a business deal).
What is Lead Nurturing?
So, what is lead nurturing? Lead nurturing is a system for continuing a conversation with a prospect from initial contact until the person is sales ready and closed lost/won. Lead nurturing is most closely associated with email, but email is just one method of contacting the prospect between the time they offer up their name and contact information and the time they are sales ready.
Why is Lead Nurturing Important?
Lead nurturing is becoming more important because B2B marketing online is more content driven than ever. We create webinars, whitepapers, blog posts, analyst reports and infographics that bring people to our websites earlier and earlier in the buy cycle. So, we know they are interested in the content we have and possibly our solution, but they aren't SALES READY yet. By sales ready, I mean ready to get serious about a solution – they don't have Budget, Authority, Need or Timing (BANT) to sign a contract.
What are the Important Components of Lead Nurturing?
Lead nurturing is NOT just email. This is a common misconception. While email is an important component of delivering the automated messages of email and is necessary for  effective lead nurturing it is not sufficient. Here are the main components:
A Plan – Lead nurturing can be as easy as sending a series of emails to everyone who fills out a form to being as complex as a multi-thread communication plan based on source of lead,  behavioral activity on-site and triggered responses to touches. Much of this depends on how large your lead flow volume is (the more volume, the more complex you can get and still be effective) and how large the sale opportunity is (the bigger the possibility of the sale, the more resources you can throw at the program). Usually, the best plan is to start simple with a single lead nurture stream and build from there.
Website with Form Capture – I'm assuming you have an effective website with a good form on it. Form conversion is it's own line of study and improvement, but getting that person's email address as part of the initial contact is critical for on-going communication.
Contact/List Manager – Having a customer management system is important to automate when and where you contact people. Without a central way to manage the customer information, you will be sending random emails and not leveraging the efficiency of a website visit profile.
Content –  Every email and touchpoint should have unique, compelling content that helps educate the prospect about different aspects of the problem or solution they are dealing with. This is not an opportunity to hammer the selling of your product, but to show them that you and your company are an expert in their particular problem and that, oh by the way – we can help you solve that if you'd like. Content includes: Artitcles, Webinars, Case Studies, Press Releases, Surveys, Independent Research, Opinion Pieces and Comparisons.
Email Delivery – Creating, delivering and tracking email as a core component of Lead Nurturing is critical. Email is highly targeted, controlled (primarily timing), inexpensive and effective. Email does the "heavy lifting" of outreach so getting the delivery and management of the email process is imperative success.
Lead Scoring – You need an efficient way to switch people from a nurture campaign to a sales qualified lead and into the queue for a sales person to engage. Using a lead scoring system in which a certain score – 60 out of 100, etc. – means that the person has taken some action to boost their score and is ready to be engaged. Some score boosting behaviors include: visiting the site more than once, clicking on a contact us button, downloading a spec sheet, visiting a tech requirements or customer testimonial page, Tweeting a question about your product or looking for recommendations.
Reporting – Understanding the source of traffic, visit/interaction profile of the prospect, cost of the touch and which tactic triggered an activity is the Cadillac or reporting systems. Start with effectiveness of each channel – email – newsletter, email-nurture, paid search, organic search, social, direct, referrals, etc. is a great start to building your benchmarks and key performance indicators (KPI's).
Wrap Up
Lead Nurturing can be a great way to leverage content you are creating to automatically continue a conversation with a prospect while they are working towards a buying decision. Nurturing is NOT just email, but a systematic way of communicating with and educating a prospect on a solution. Don't  hard sell, be helpful and be ready to reach out when the behavior signals a move towards the decision making stage of the buy cycle.
Let me know what you think of the article!