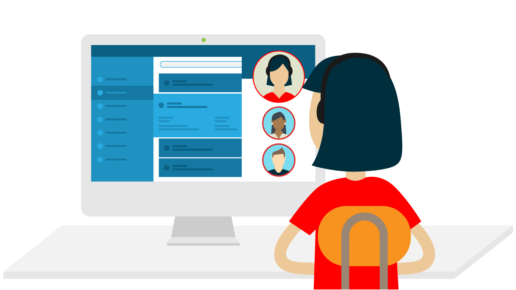 What if video calls were fun and engaging vs distanced and boring?
Matt Abrahams, Stanford Communications Professor and Partner@ Bold Echo (www.boldecho.com) recently gave a wonderful presentation on how to deliver and be part of a better video calls – really important since we are all doing it!
Want to be a video call hero? Follow these 11 tips below to make your call participants GLAD they showed up.
Call Hygiene – The setup is important
Setup a space. Taking you video calls from the kitchen table makes sense for once in a blue moon, but we are in this for the long haul. Ideas include retrofitting a space: closet, garage, unused bedroom. Having a clean, non-distracting background – Matt uses a white video screen, I have an office area with a little details, I see people with book shelves. What is the image you want to project? Note – I see a lot of people with the fun zoom backgrounds, but I find those distracting as the persons head moves and creates weird artifacts. Having carpet in the room minimizes sound bounce and improves audio quality.
Good microphone. I'm currently using a Jabra 510 USB speaker/mic combo which is better than the computer system and allows me to be hands-free. Matt uses a headset which is also hands free, lets him hear better and has a great microphone. It also serves as a headband to tame the unruly mane while hair salons are closed! I have a Sennheiser Pro 2 headset that I like quite a bit and may start using that more.
Be Engaged – Your energy is contagious
Stand Up! Sitting while on a video call limits physical movement and causes you to be more sedentary.
Stare at the Camera. This is a hard, but important one. People on the other side of the camera will respond and be more engaged with you if you are looking at them through the camera. News casters are great at this and you can be too. Try placing a post it note that says "look here" or put a picture of someone you like right behind/on-top of your computer where the camera is to look at them or put your talk notes (outline only) right behind the camera.
Be Expressive! Emote! You know when someone is excited about what they are presenting and you should be excited about what you are presenting. So, be excited! Use your hands, this really helps when you are standing up.
Call Out People by Name. Welcoming people by name as the meeting gets going and start a conversation among participants. During the session, cold call on people – "Scott, what are you doing to solve that problem?" or warm call on people – "Jim, I'm going to call on you next to discuss team meeting protocol".
Create A Story While Making the Point. Instead of saying, here are 10 things that will make your video calls great, how about "what if people on your calls were super engaged, participated fully and were glad they showed up?" The content is essentially the same but the framework and setup is better.
Use the Tools – They can help if wielded appropriately
Break-Out Rooms. Shrink the conversation by putting people into breakout rooms for discussions. A great tip here is to give guidance on not only the topic of discussion but who should start – "the person who woke up the earlierst this morning goes first.". This requires the participants to figure out who was up earliest and gives direction to who goes first.
Participant Panel + Raise Hands. Having the participant panel open and asking people to raise hands for something give you an opportunity to call on them – either warm or cold – and improves engagement.
Chat is Your Friend. The chat window allows people to ask questions that you can address to rest of participants, private notes and posting links to materials and shared sheets.
Send People Elsewhere – Like Shared Sheets. Starting a video call by sending the participants to a shared Google Sheet to answer a question or do a task gets them engaged right away. We are all multi-tasking anyhow so how about getting the participants multi-tasking on YOUR topic vs checking the phone bill.
Special thanks to Matt Heinz (www.heinzmarketing.com) and Latane Conant (www.6sense.com) for organizing the weekly CMO Coffee Talk. The conversation is great and the guest speakers wonderful.