The ultimate goal of most digital marketers is to build an organization that is set up to create attention, generate leads and sales which result in valuable customers – efficiently. Finding and attracting high quality prospects, converting visitors to customers and then working hard to convert customers to advocates takes planning, organization, resources and content.
In this article, I'd like to share the 10 critical elements that give you the foundation of a great digital marketing program. Each item builds on the previous one and leads to an infrastructure that can support success and growth. I've also included links to some of the best resources for going deeper into each digital marketing essential.
Strategy and Planning
Audience Analysis and Persona Development
Clear Messaging and Positioning
Measurement Infrastructure
Learning Plan and Testing Platform
Staffing and Resources
Content Creation
Media Selection and Delivery Technologies
Data Centralization
Reporting and Sharing
Strategy and Planning
"Failing to plan is planning to fail" is an adage attributed to Benjamin Franklin. It is exciting to jump into a media program or participate in an event before you've worked through your messaging, positioning and learning program. The digital marketing strategy readings from Smart Insights include the SOSTAC framework which helps structure the output of your planning work. Click here to review the full guide and download.
Situation – What is the competitive environment and what is your internal situation in terms of capabilities and team.
Objectives – What are your business objectives and what are you trying to achieve
Strategy – What is the approach you are going to take that takes advantage of what makes your business special and different. What is your competitive advantage.
Tactics – What are the channels of communication you are going to use to connect with prospects and turn customers into advocates?
Actions – What are the specific actions you need to take in the next 90 days to move your business forward? What near term items will make the biggest impact over the long term?
Control – Reviewing performance through measurement and analytics.
Here are some more resources for strategy and planning:
Audience Analysis and Persona Development
As part of the building of your digital marketing machine, you have to get personal with the main segments of your audience by creating personas. I have always found the process of researching an audience segment, creating a persona that represents that segment and socializing within the organization is incredibly helpful for putting a face to a segment. This helps with planning content creation for the person you are talking to and getting into elements like their motivations, fears, personal aspirations and where they are getting their information into a single view. This process is extremely helpful during the product development stage as it gives the developers a real person, doing a real task to consider in their decisions.
Here are some resources to help you understand your audience and create personas that I like:
Clear Messaging and Positioning
In the grand scheme of things, words are inexpensive. They are also incredibly powerful in creating separation between you and your competitors as well defining how you are solving a consumers problem. I'm a big fan of MEC Labs and their test first content approach for conversion optimization. One of their key catch phrases that I always think about is "Clarity Trumps Persuasion". This means that being clear is more important then selling – especially in the digital world where you have a split second to grab someones attention and communicate how you can help. It's also important because peoples radar for being sold to has gone way up which means it is more important to be authentic than pushy.
Clarity Trumps Persuasion.

Flint McGlaughlin, Founder MEC Labs
This all starts with being absolutely clear about the problem you are solving and how you do that on your website. If you say that you are an "Integrated Solution for Sales Enablement" you are going to confuse more people than if you say that you "Make Your Team a Revenue Driving Machine" – this is Outreach.io's headline on their homepage and it speaks directly to the desire of the sales manager looking for help for her team.
Nailing the value proposition is one of the hardest messaging things to do in digital marketing but it is imperative to do right. If you can clearly answer the question "why would someone buy from me than any other competitor?" in a succinct way, you will improve your chances of winning that business significantly.
Here are some resources for understanding and creating an effective value proposition:
Measurement Infrastructure
In module 1 we introduced the digital marketing eco-system, in module 2 we discussed web analytics platforms, in module 3 we introduced marketing automation systems that connect marketing to sales. Getting your website properly instrumented and configured is job #1 but thinking through which media channels and communication platforms you're going to be investing in is critical to have a complete measurement infrastructure.
At the very least, a measurement infrastructure should include:
A tag management platform. Tag management systems allow the marketer to control adding, modifying and removing tracking tags from all the different media systems. This saves your developers from having to go in and manage tracking tags for you. Google Tag Manager is free and is a great tool for most websites.
A well configured web analytics platform like Google Analytics. Remember that you have to modify any web analytics platform to capture events and conversions, integrate with other services and filter out traffic from internal and bot sources.
Add tracking tags from media delivery systems. Specifically Facebook, Google Ads and any ad networks you might be testing or investing in. You should also include tracking tags that allow you to re-market to people who visit certain pages of your site.
Add tracking tags from any marketing automation or email programs you're running
Select a reporting platform that works for your business. At the very least it is a spreadsheet that you customize for your business – could be similar to the dashboard you created in module 3, but could be more sophisticated such as Google's Data Studio or Tableau or Chartio.
Your measurement infrastructure will evolve as your program evolves but these foundational elements will give you the base metrics and system connectors you definitely need.
Here are some helpful articles on building measurement platforms and tech stacks:
Learning and Testing Plan
We discussed testing and growth teams in module 3. For a digitally centric business to succeed and grow in this competitive environment, you have to have a test and learn mindset. This means not only having the steps in the customer journey identified and having metrics for each stage, but having an idea for where you need to be improving in the funnel to have the biggest impact on your program. Is it better messaging in your search ads or a better landing page conversion rate or a better lead to nurture to close rate or a better e-commerce shopping experience?
There are some additional resources to help you think about what and where to test on the digital resources page, but the important concept here is that you have to be thinking ahead about the testing team, what testing platform you need to have in place – Google Optimize is an option – and how are you going to get into a regular cadence of testing and learning – it is imperative for digital success.
Lots of good resources available for testing and optimization. The conversion rate optimization platforms like VWO and Optimizely have great content on their blogs.
Staffing and Resources
As we discussed in module 1, the most effective digital marketers have a love of technology and data in addition to the ability to market. Regardless of the size of your digital program, staffing accordingly is necessary to drive your program forward. The technology can help you be efficient and scale, but you need to have the right skill set to create, implement and measure your program. This skill set includes general digital marketing, specific channel experience, digital marketing operations, creative skills including websites/images/video, content and analytics all contribute to program success.
Some of these skills can be outsourced to agencies. Specific channel skills like paid search, display advertising and paid social are excellent candidates for agency help because they can bring the combination of creative, technology, campaign management and optimization to these more discreet activities. Parts of the inbound channels like organic search and social can be outsourced but only very specific activities like audits, some content creation and competitive monitoring. In general, inbound channels need to be driven by the brand to maintain authenticity and connection between customers and brand.
Resources on building a digital marketing team:
Content Creation
The technology to communicate to an individual in a 1:1 way digitally is here and now. Unique IDs for each device and browser, media delivery systems that share profile data across platforms and the integration of digital behavior data with customer databases and CRMs give us the ability to have 1:1 conversations. However, the biggest road block is having enough content for each one of the conversations. This is why having a clear set of persona's that you can create content for helps drive the type of conversations that will move the relationship forward. Content is also super important for organic search keyword ranking, emails, site conversion, social media and nurturing programs.
Resources for Content Planning and Creation (there are lots online):
Media Selection and Delivery
We've talked about different digital media channels and how they work, but what we haven't talked about is sequencing of investment in those channels. Here is a way to think about how you will invest in channels to build your marketing machine.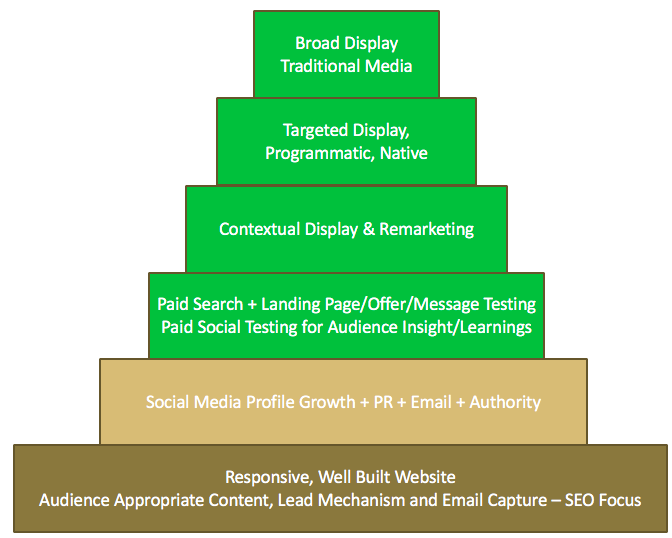 Start with channels that will take the longest to show benefit. Specifically, this means investing in organic search and organic social early on. This means you have to focus on what keywords define your authority, you start to build a community around your social profiles and start creating content that can be used to grow many different communication channels.
When starting to spend digital advertising money – focus on channels where the consumers are highly motivated and actively looking for a solution. This, of course, means paid search. The work you did in the first stage around keyword identification and messaging plugs directly into this channel and you can used paid search to start testing messaging approaches and offers through landing pages.
Next invest in paid social so that you can further refine the audience you are targeting. You have such fine targeting options with paid social and you can learn so much about who is engaging with and responding to your ads. This is also a great chance to start experimenting with new ad formats such as the different flavors video and promoting content to expand your social networks.
When you are ready to scale and test at scale – investing in Google Display Network with their content based targeting is an excellent next step. The cost per click model – in which all of your non-clicked impressions are "free", the targeting based on content interest and the ease of adding the program through your Google Ads interface make this a great way to scale with control.
Once these programs are in place should you start to think seriously about adding more traditional ad networks or experimenting with other types of digital advertising. By this point, you should have learned a lot about your go to market positioning, what messaging and offers are resonating and have a cadence for testing and learning.
Here is a big list of digital media channels – it's big! https://docs.google.com/spreadsheets/d/1zHbw3NZvMOS9zjQLXQCx9Nys3qpyMHVRjfpcCHsNPnQ/edit#gid=0
Data Centralization
Data centralization is one of the most challenging topics to tackle, but in the age of consumer centricity – the more you can find ways to break down silo's between channel and internal data sets, the more opportunity you will have to automate communications at a one to one level. Here are a few areas to start:
Do everything you can to capture the source of a customer and their motivation for working with you in your customer database and CRM. This connection between the why of doing business with you captured with the what they are doing with you gives you the ability to modify communications based on motivations.
Maximize the number of touch points that flow through fewer digital media delivery systems. For example, digital media delivery systems like Marin Software combine paid search, paid social and e-commerce marketing in the same platform for management and optimization. Marketing automation platforms like Marketo and Hubspot give you the capabilities personal websites and emails using a single set of data and behaviors.
By looking for systems and communications that can be tied together through an integrated set of data – you will be driving forward the centralization of consumer data that will pay dividends across many customer interactions.
Great post by Avinash Kaushik on building a data centric organization. https://www.kaushik.net/avinash/elements-for-big-digital-analytics-driven-business-success/
Reporting and Sharing
All of the systems we've discussed and many more generate data. The challenge for digital marketers is capturing data from across different sources and combining in a way that helps with monitoring and decision making. Reports out of Google Analytics for example really only tell us about the interactions with our website which is important, but only one piece of the puzzle.
It's easiest to start with pulling different sources of data into a spreadsheet and create critical views of customer flow by week, month and quarter. This is a great place to start because it is low cost and everyone in business has basic Excel skills.
The next level is using a dashboard reporting tool like Google Data Studio, Tableau or Chartio. These systems use API's to automatically pull in data from different systems and give you the ability to visualize the data.
The bigger challenge for the digital marketer is sharing data, reports and dashboard in an efficient and compelling way. All too often, teams generate insights from their own programs and use that to improve their programs but fail to share their learnings with the greater organization. I see this again and again, especially in larger, less agile companies where teams, products and customer data are silo'd.
There are so many ways to share what you've learned and be a guiding light for testing and learning in the organization. For example, a regular newsletter from your team to the entire company on tests completed and lessons learned, a section of the intranet where you post what you've learned, internal road shows where you do either lunch and learns or present in other teams staff meetings and sharing at topic appropriate conferences.
Resources for Reporting and Dashboarding:
The Big Finish
I hope this post has helped tie together many of the themes we covered during this quarter. Digital marketing is really powerful, very interesting and lot of fun because it is always evolving. New channels, tools and methods of communicating are continually coming onto the scene and make for a really dynamic industry. However, you have to nail the foundational elements first in order to create the type of marketing program that generate the type of leads, sales and advocates that propel your business forward.
Shoot me an email or comment to let me know what I missed!